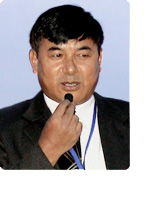 Dear Mr. President and all the members of UAAA
My heartiest congratulations on launching the new website of the UAAA.
As a immediate past president of UAAA, this website will play a vital role to bring climbers closer together among the UAAA member federations by sharing all the latest news, updates and information about mountaineering and climbing activities.
Thank you very much.
Ang Tshering Sherpa
Immediate Past President,
UAAA